IAC
A Company-Building Company
Introduction
IAC has been building companies for 25 years. Headquartered in New York City, IAC is home to more than 150 digital products and brands used by people all over the world and its portfolio includes 10 publicly traded companies. IAC tasked The Old State with designing and creating a modern website as part of their recent rebranding effort.
What We Did
25 Years of Results
5

Operating Segments

150

Brands & Products

10

Public Companies Created
The Challenge
New Site for a New Brand.
IAC has fostered over 150 digital brands and products and taken 10 companies public, their own website needed a bit of love. With a rebranding effort underway, they reached out to us to design and build a modern website to showcase their company and their brands.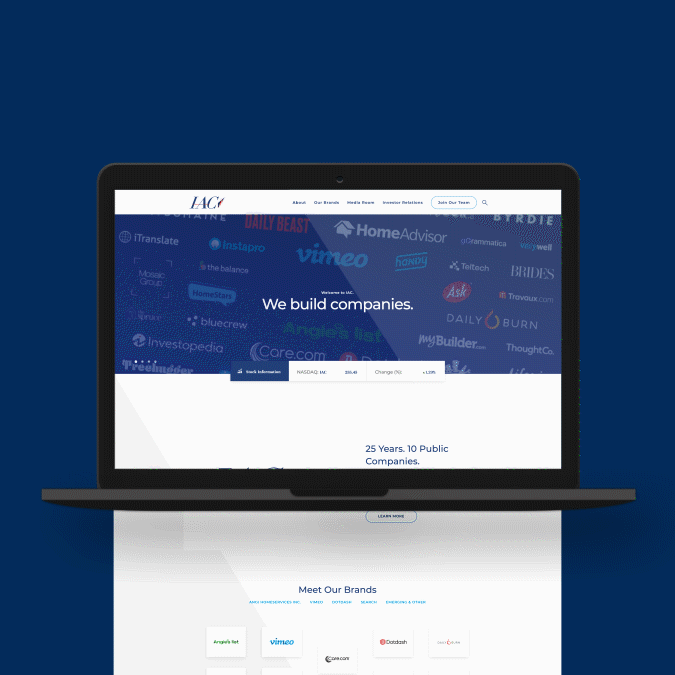 The Solution
A Brand New Site for Showcasing Brands
We began our engagement as we always do: by diving headfirst into the strategy. We met with stakeholders from IAC as well as their creative partners to get a better understanding of how users were going to interact with the site and to develop a strategy for how to get users to engage in the ways they needed to.
Once the strategy was in place, our design team got to work. Our team was tasked with creating a portfolio website that shows off their brands and also provides access to essential investor tools.


The Result
Ready For The Future.
IAC has a fresh new website to go along with their fresh new brand. It's modern, responsive, and represents the brands that are managed. It also serves as a useful tool for both potential investors looking for information as well as current investors looking for reporting.
Let's work together.
Have a project in mind? We offer solutions that help individuals & companies all over the world deliver on every digital front, communicate their brand clearly, and take their business to the next level. Click the link below and let's talk about your project.
Get Started