Freese & Nichols
Engineering A Modern Website
Introduction
Freese & Nichols is an engineering, planning, and consulting firm that has served clients in the Southwest U.S. since 1894. The Old State was tapped to design and build a modern website along with easier management for their web content team.
What We Did
The Challenge
126 Years of History
Freese & Nichols has been in operation since 1894. For their clients, that means unparalleled reliability, stability, and experience. For us, that also meant a whole bunch of years' worth of important content needed to be migrated to a new site. In addition to creating a modern site design and content management experience, we needed to transfer thousands of blogs, news articles, press releases, images, and documents from their old site to the new one.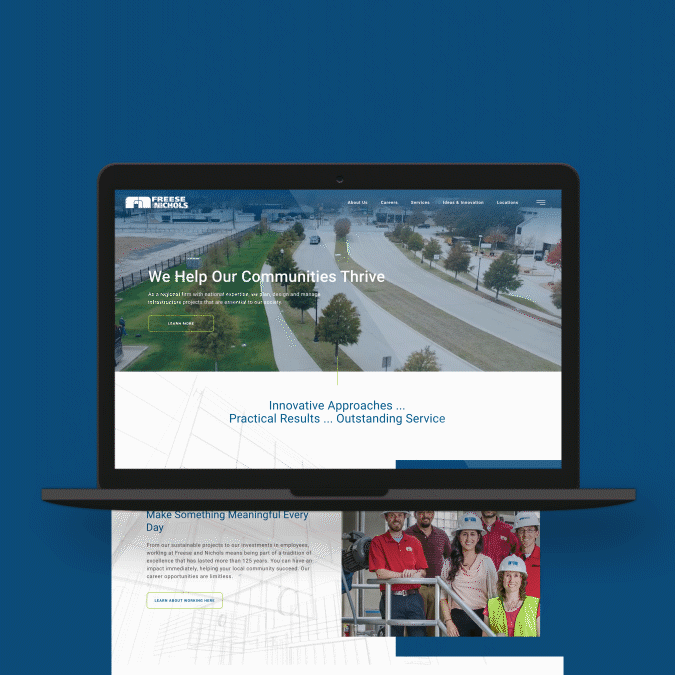 The Solution
A Site To Be Proud Of
TOS began by sitting down with Freese and Nichols stakeholders to determine what success for the new modern site design would look like and to develop a strategy on how to achieve it. We worked closely with their team every step of the way to create a detailed wireframe prototype, a modern site design, and a plan for creating an easily manageable backend. We also created a migrating content plan to migrate their current content from the existing CMS to the new site so there wouldn't be a beat skipped.


The Result
Clean and Simple.
The site that we created for Freese and Nichols focuses on simplicity. Their old site had a ton of information on it and it was our intent to organize that content in a way that was simple and easy to digest. The result is a clean, modern website that honors the past but also looks to the future.
Let's work together.
Have a project in mind? We offer solutions that help individuals & companies all over the world deliver on every digital front, communicate their brand clearly, and take their business to the next level. Click the link below and let's talk about your project.
Let's Get Started