Mamalon
Crafting a New Brand of Outdoor Kitchens
Introduction
Mamalon is a unique modular outdoor kitchen system that allows you to easily create a variety of outdoor cooking and entertaining spaces that blend. Their handcrafted modular outdoor kitchens have uncompromising quality and amazing character. This exciting startup asked The Old State to help craft a brand identity as unique as their kitchens.
WHAT WE DID
THE CHALLENGE
If You Can't Take The Heat.
Like most startups that request our services, Mamalon came to us with a name and a great concept for a product. Our task was to create a unique and dynamic brand and story around these beautiful outdoor kitchens. In addition to a new brand, Mamalon needed a website to showcase the kitchen systems and allow customers to customize their own kitchen and purchase it online.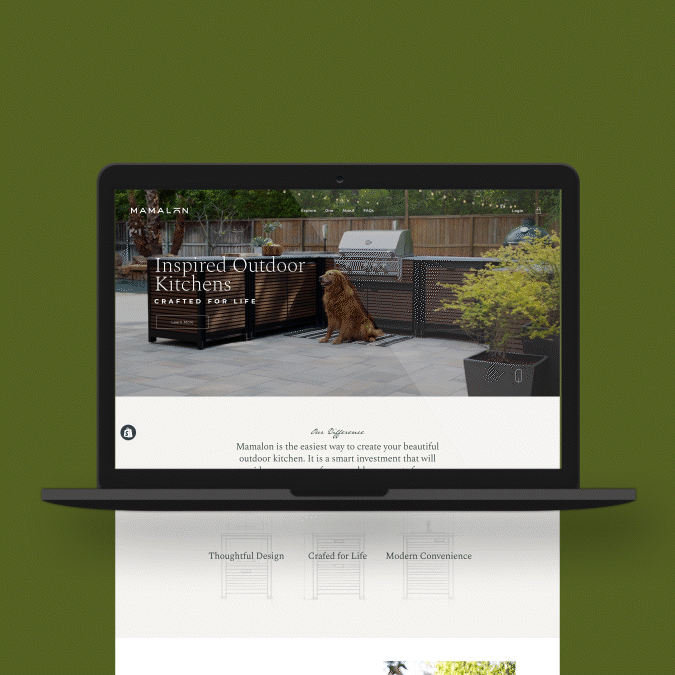 THE SOLUTION
Defining Outdoor Luxury.
We started by meeting with the client for multiple strategy sessions to learn as much as we could about the company, the products, and the potential customers. From there, we created a unique and elegant family of logos that spoke to the quality, craftsmanship, and luxury of the Mamalon products. In addition to the logo, we created a business card and stationery package and a thoughtfully crafted custom Shopify website worthy of the Mamalon brand.


Now We're Cookin'!
For the website customization piece, we partnered with ThreeKit to produce high-res 3D renderings of each modular component along with a stage where the user can fully visualize their outdoor kitchen before they purchase. The system will even allow the user to place their masterpiece in the real world via Augmented Reality (AR).



THE RESULT
Mamalon is set up perfectly to make a big splash in the outdoor kitchen market with a unique and high-end brand as well as a top-of-market website purchasing experience.
Let's work together.
Have a project in mind? We offer solutions that help individuals & companies all over the world deliver on every digital front, communicate their brand clearly, and take their business to the next level. Click the link below and let's talk about your project.
Get Started