Davidson Law Group
Planning for the Future
Introduction
The attorneys at Davidson Law Group specialize in estate planning, elder law, and probate. They approach each client and case with compassion and attention to detail. Their main goal is to make the process as smooth as possible in order to provide their clients with peace of mind.
What We Did
The Challenge
Getting to the Point
Like any other type of consumer decision today, the choice of which lawyer to choose starts with an internet search. That means that the first contact with a potential law client is going to be on the website and, as we all know, first impressions are crucial. Davidson had somewhat of a unique problem in that their website didn't look bad, but it wasn't very easy to find the information you might be looking for as a potential client. That's where The Old State came in to provide web design for their law firm.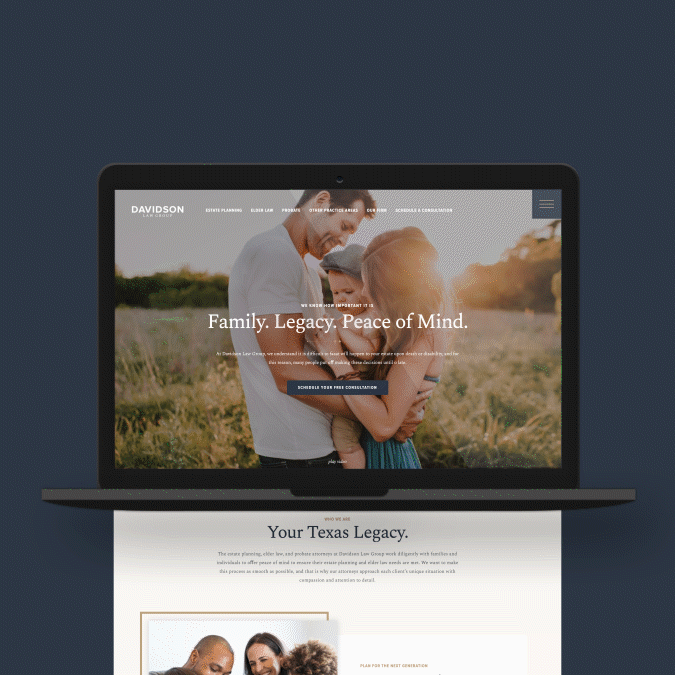 The Solution
Making the Law Simple
We began by working with the team at Davidson to strategize and determine what key pieces of information are critical to inform a potential client's decision to move forward with them. This involved a few discovery sessions where we downloaded as much detail as possible about who they are and what their goals for success are, how the contact and sales process should go, and other key strategic points.
Once we nailed down a plan, we designed a modern, simple website that any user can easily navigate along with easy to see calls to action pointing the user in the direction of what to do next. This is especially key because Davidson works in practice areas where many of their clients and potential web users are older. The site we created is as much a practical sales tool as it is a flagship brand showpiece.


Reaching the right audience.
As we all know, a website is essentially useless if the right people aren't seeing it. To that end, TOS has rolled out a Paid Search Marketing campaign that is targeting users who have the highest potential of converting into clients.

The Result
Davidson has started to see increases in qualified leads that are converting to clients. That's due to TOS working with Davidson to determine who the best targets are, creating well-written, targeted ads and getting them in front of the right eyes, and driving them to a newly designed, well-organized website that impresses and converts. Each piece of the marketing ecosystem works in connection with the others to accomplish the ultimate goal of getting more clients in Davidson's door.
Let's work together.
Have a project in mind? We offer law firm website design services that help individuals & companies all over the world deliver on every digital front, communicate their brand clearly, and take their business to the next level. Click the link below and let's talk about your project.
Get Started