Emerald Luxury Coaches
Heading Down the Road with a New Luxurious Website
Introduction
The Emerald Coach is designed with an emphasis on a unique owner experience. From its efficiency to simple technology controls, paired with an abundance of storage, every detail is taken into careful consideration.
As with any product, service, or company, the buying journey usually begins with a visit to your website. Emerald needed help bringing their unique luxury sensibilities to that increasingly important first impression website experience.
What We Did
The Challenge
The Road to Luxury.
Our challenge with Emerald's site was simple: they build the most custom, the most beautiful, the most luxurious coaches to ever set tire on American roads. But you'd never know that from visiting their website. It was old, outdated, and didn't reflect the luxurious nature of their products.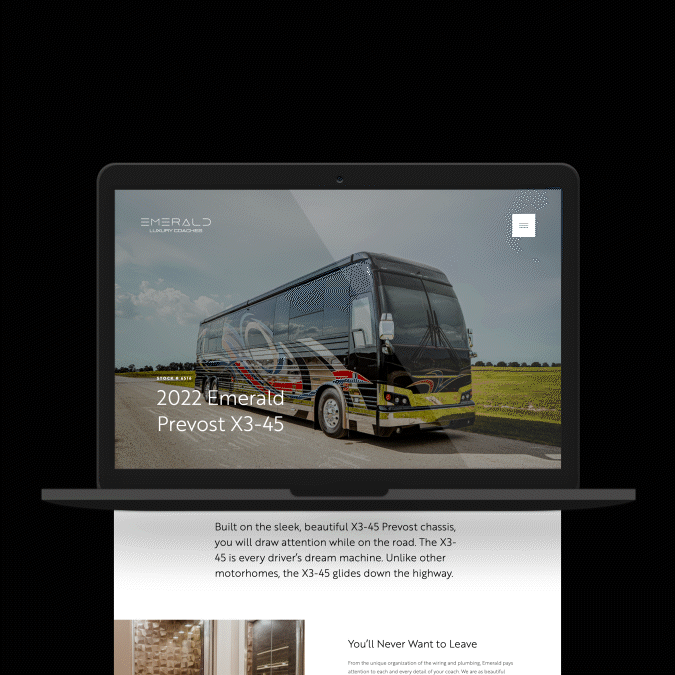 The Solution
Starting the creative engine.
We started, as always, with the discovery and overall strategy phase, working hand-in-hand with the Emerald team to identify the message and feeling that the website needed to convey to visitors. A wireframe prototype and sitemap were created to make sure everyone was aligned on the vision before our design team came in and knocked it out of the park.


The Result
Rolling Down the Road in Style.
The updated website design is stunning and allows visitors to get a sense of the time, care, and detail that go into creating an Emerald Coach.
Let's work together.
Have a project in mind? We offer solutions that help individuals & companies all over the world deliver on every digital front, communicate their brand clearly, and take their business to the next level. Click the link below and let's talk about your project.
Get Started