Allan Knight & Associates
Living Even More Beautifully
Introduction
The Allan Knight brand is made in America, with traditional bench-made methods. It's built on the belief that life should be lived around one's favorite elements in charming spaces that enchant and inspire. "We only have one life to live, so resolve to live beautifully!" We second that notion and with this project endeavored to extend it to the Allan Knight & Associates website.
WHAT WE DID
THE CHALLENGE
Second Time Around.
The Old State had previously worked with Allan Knight on their old website, but it was time for an update and an upgrade. Our focus was to make the site easier to use while at the same time allowing the user to view more content in the Collection. We also set out to make the management of the site much simpler using the most up-to-date version of Governor.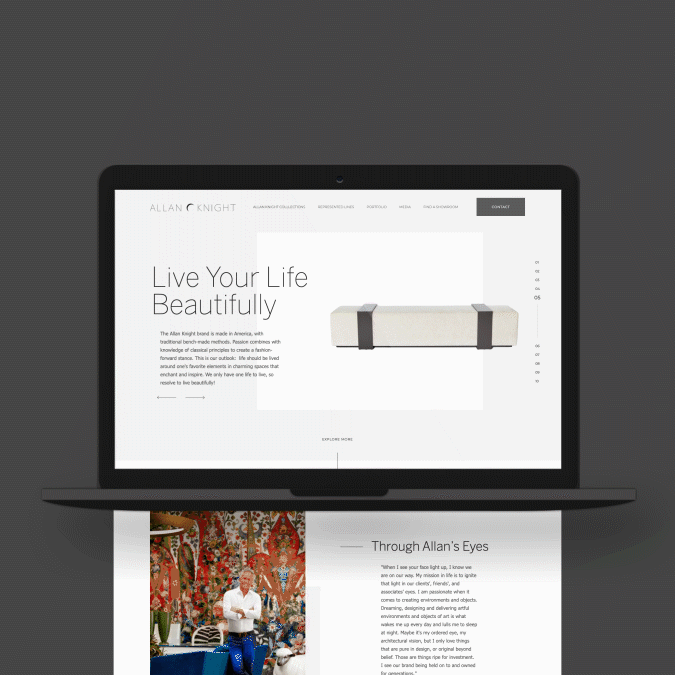 THE SOLUTION
Simple Beauty
The Old State worked closely with Allan Knight team members to determine the best strategy and path forward for the new site. Everything from layout and photography to copywriting and content management was carefully considered before we executed any design work. A wireframe prototype was created so that all involved could see the vision before proceeding to the design phase.
A simple user interface and user journey were created to get customers to the products they are looking for quickly and easily. Simple but elegant, the site allows the products to be the heroes and doesn't get in the way. In addition to products, a showroom locator was included as well as a portfolio for the company's interior design services.


THE RESULT
Timeless Elegance.
Sometimes the simplest solution provides the best results. In the case of Allan Knight, our job was to gently guide the user and really let the product designs shine through. Our simple and timeless layouts for this site do just that.
Let's work together.
Have a project in mind? We offer solutions that help individuals & companies all over the world deliver on every digital front, communicate their brand clearly, and take their business to the next level. Click the link below and let's talk about your project.
Get Started